ABS/ESP Control Unit (A) | Car
299.00 EUR
Plus 19% VAT, plus shipping costs.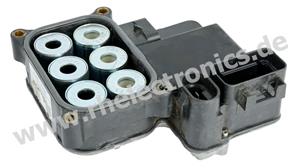 Scope of repair:
➜ Complete Overhaul (+50.00 EUR)
➜ Only troubleshooting
Repair time:
➜ Express repair: 2-5 working days plus shipping (+50.00 EUR)
➜ Normal repair time: 7-10 working days plus shipping
Manufacturer designation:
Installed in the following vehicle brands:
Errors:
➜ Valve error
➜ usually several valve errors created in the log
➜ pump fault
➜ Error C0265 Valve relay open or short circuit
➜ In case of pump faults please send in device with valve block so that we can also check it.
➜ -various other errors possible
Standard Lieferung:
Shipping within Germany up to 5KG
Warranty:
By law. 12/24 month. Warranty extension not available.