ABS/ESP Control Unit (A) | Car
159.00 EUR
Plus 19% VAT, plus shipping costs.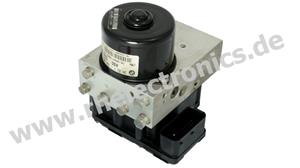 Repair selection:
➜ with valve block test (+14.90 EUR)
➜ without valve block test
Repair time:
➜ Express repair: 2-5 working days plus shipping (+50.00 EUR)
➜ Normal repair time: 7-10 working days plus shipping
Scope of repair:
➜ Complete Overhaul Electronics (+70.00 EUR)
➜ Complete Overhaul (+150.00 EUR)
➜ Only troubleshooting
Manufacturer designation:
Part no.:
Teile Nr.: 10.0948-**** and others
Installed in the following vehicle brands:
Models:
BMW 3 series E36
E46
Z3 etc.
Errors:
➜ Pump motor defective
➜ Hydraulic pump no connection
➜ implausible signal
➜ Circuit fault pump motor
➜ wheel sensor error
➜ -diverse andere Fehler möglich
➜ These errors are usually caused by a defect in the control unit. In rare cases
Standard Lieferung:
Shipping within Germany up to 5KG
Warranty:
By law. 12/24 month. Warranty extension available.