ABS/ESP Control Unit (A) | Car
299.00 EUR
Plus 19% VAT, plus shipping costs.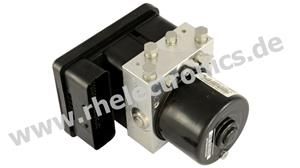 Repair time:
➜ Express repair: 2-5 working days plus shipping (+50.00 EUR)
➜ Normal repair time: 7-10 working days plus shipping
Manufacturer designation:
Part no.:
ATE MK60 until approx. 2004 / ATE Part No.: 10.0960-0***** etc. z.B.10.0960-0805.3
Installed in the following vehicle brands:
Audi
BMW
BMW Mini
Peugeot
Renault
Skoda
VW
Models:
VW Polo
Skoda Fabia
BMW E46 etc.
Errors:
➜ C1DF5 Control unit internally faulty
➜ 5DF5 Control unit internally faulty
➜ Hydraulic pump out of tolerance
➜ pump fault
➜ Control unit not readable
➜ wheel sensor error
➜ C1E14 CAN message engine control unit
➜ C1E40 steering wheel angle sensor
Please submit the ABS unit completely (control unit and hydraulic block). We need these for functional testing and sensitive parts in the unit are better protected during transport.
Standard Lieferung:
Shipping within Germany up to 5KG
Warranty:
By law. 12/24 month. Warranty extension not available.